HOME > Products

If you have any question, Please contact us.

The followings are major categories of our Client.
Products
LABORATORY UHT STERILIZER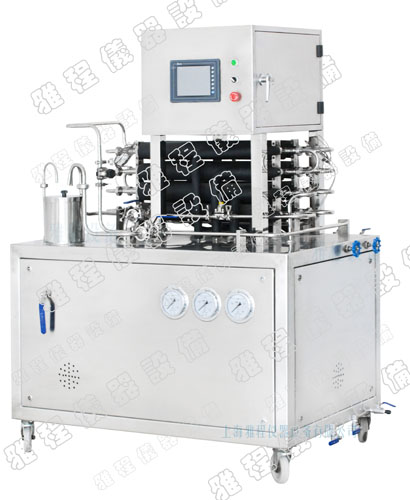 YC-02 mini uht sterilizer is manufactured exclusively with advanced design & technologies to meet requirements from universities, institutes, enterprises' R&D Dept., and dairy industry for simulating industrial manufacture and research in laboratory. Rated capacity can be from 20L/h to 25L/h, completely duplication the industrial production, which is adaptive to wide ranges of viscidity, and be same with preparation of fibers and granules, precisely mimic prepare, homogeniser, aging, pasteurism, fast sterilization under ultra-temperature temperature and aseptic filling. The machine workstation system is integrated with the CIP function online, which can be configured optionally a homogeniser and a aseptic filling cabinet on your needs.
The technological flow
(1)Tube preheating & sterilizing: to sterilize the tube by superheated water and last for some time, then chill out to normal temperature and stand by.
(2) Material sterilizing: to ensure the sterilizing temp. & time according to experiment requirement(In line homogeniser can be added either upstream or downstream).
(3) Aseptic filling: hot filling or normal temp. filling based on laboratory needs.
(4) CIP cleanup .
Material→ hopper→screw pump→preheating tube→(homo.) →sterilizing tube(137~150℃)→water-cooling→(homo.)→(→ice-cold) →aseptic filling
Characteristics
1. Rated capacity 20L/H~25L/H, lowest sample 3L~5L, handled easily and minimum sample required.
2. Completely duplicating the industrial production, with high accuracy and good reproducibility, the data and sample obtained through this machine indicate the industrial production and many terms and conditions can be adopted or referenced directly.
3. YC-02 mini uht sterilizer workstation with selected system components ,all major
4. components are housed within a stainless steel cabinet, as standard two electrically
5. heated hot water recirculators,no steam required
6. PLC controller, LCD touch panel control fascia with flow path of system.
7. Two modes of run: Automatic-mode, and Eye-monitored mode for the purpose of easily controlling experimental process .
8. As standard a progressive screw pump(made in Germany) with CIP is used to avoid secondary pollution.
9. YC-02 mini uht sterilizer is mobile, and can be positioned in a wet or dry area.
10. Non-material warning functions.
11. Computer interface with real time temperature recording ,the trial data can be used for the paper directly with excel file.
12. Each heating section is individually controlled to enable a wide setting of product temperatures,the product is heated by pressurised hot water recirculators which are PID controlled for greater stability and accuracy(the precision of sterilizing temperature is ±0.5℃) . The cooling is in 1 or 2 stages dependant on the final cooling temperature required.
Technical parameter
1. Rated capacity from 20 to 25 Ltr per hour (Highly available by your demand).
2. Heating to 148 deg C at the flow rates stated.
3. Cooling to below 5 deg C at the flow rates stated.
4. Temp. Precision:±0.5℃
5. The times of sterilizing include 3S,5S,10S,30S,300S(optional)
6. Product system pressures to 8 bar.
7. SIP (Sterilise In Place) an option for Aseptic sampling.
8. Built in true CIP (Clean In Place), flow for CIP more than 400 Ltr per hour
9. Outlet temp. adjustable by request.
10. 380 volt 3 phase, 50 or 60 Hz.
11. Power:10KW
Application
Such as fruit juices, milky products, tea, sauce dressings, soups and so on.