HOME > Products

If you have any question, Please contact us.

The followings are major categories of our Client.
Products
laboratory spray granulator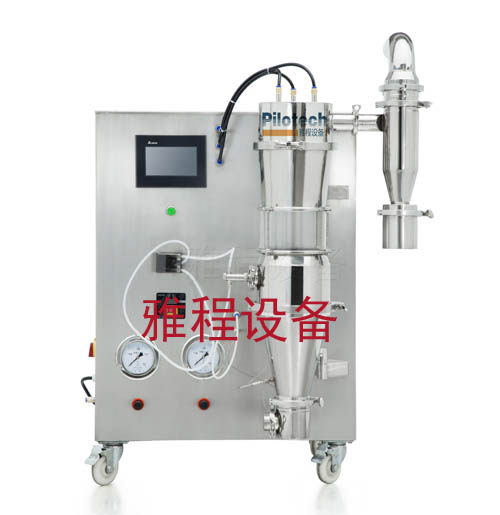 Developed by Shanghai Pilotech Instrument & Equipment Co., Ltd., YC-1000 laboratory spray granulator (fluidized bed granulation) combines spray dehydration and granulation focusing on large particles powder granulation in laboratory.
Features
Three processes of mixing, dehydration and granulation in fluidized bed spray granulation are completed in one equipment.
The experiment requires a minimum amount of samples of 50 grams.
Small area coverage of mere 0.5 square meters that can be placed on the laboratory table.
Simple process, concise equipment, low power consumption and environmental performance.
Suitable for heat-sensitive materials and samples of easy dissolving particulates.
PLC operation control. Color LCD touch screen displays the whole experimental process.
Shutdown protection: press the stop button and the machine (except the fan) stops working immediately so that heating parts will not be burnt due to misuse (forced shutdown of the fan).
Stainless steel machine body and two-fluid spray atomization structure.
Real-time control on PID temperature.
Fluidized bed control parameters:
● Fluidized inlet air speed: 150 cube/h at maximum
● Fluidized inlet air temperature: 40 ℃-150℃
● Peristaltic pump flow: adjustable, 100-500ml/h at maximum
● air pressure for spray atomization: 0.15-4BAR
● weight of spray sample: 50-400g/time
Technical index
Expansion chamber volume: 10L
Fan power: 1.5KW
Heating power: 3KW
Expansion chamber materials: high borosilicate glass and stainless steel
Maximum inlet air speed: 150m3/h
Air compression pressure: 0.15Mpa~0.6Mpa; Air compression consumption: ≤4m3/h
Material treatment capacity: 50-400g/time
Color LCD touch screen parameters: air intake temperature/material temperature/fan frequency
Inlet air temperature: 40℃-150℃
Voltage: 220V/50Hz,5KW
Size: 800×600×1000 mm
Weight: 80 Kg
Application scope:
Pharmaceutical product/food and feed/ceramic product/plastic and rubber/polymer and resin/ biogenetic product/chemicals and fertilizer/ perfume/ coloring matter and dye/vegetable and fruit extract/ aromatic substance/grain crop, etc.
Application area:
Spray dehydration and micronization, microencapsulation, restoration of product composition and extraction, suspending liquid dehydration, particle size control and structure revision