HOME > Products

If you have any question, Please contact us.

The followings are major categories of our Client.
Products
laboratory Spray freezing dryer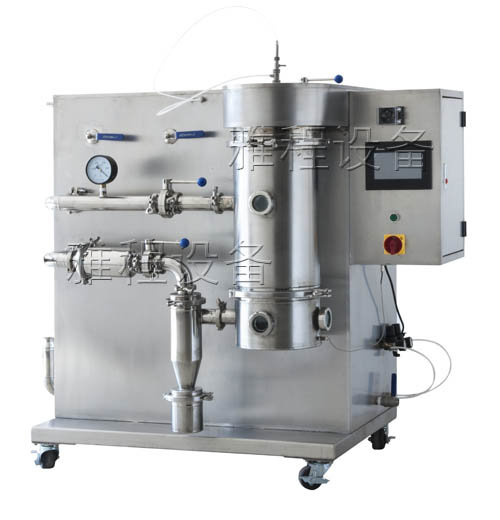 Developed by Shanghai Pilotech Instrument & Equipment Co., Ltd., YC-3000 laboratory spray freeze dryer combines spray dryer and vacuum lyophilization techniques.
Application scope:
YC-3000 laboratory Spray freezing dryer can be used for low-temperature dehydration of heat-sensitive, viscous, active and high sugar materials, such as Chinese herbal medicine and nature product extract, dairy product, biological agent, enzyme, fruit original juice, and polymer materials.
Features
1. With combination of spray dehydration and vacuum lyophilization techniques, YC-3000 laboratory Spray freezing dryer works with shorter drying time than traditional vacuum freeze-drying. The dried solid powdered materials basically retain their original biological and chemical properties for easy and long-term preservation and when added water, materials return to the state of pre-freeze-drying.
2. The present equipment adopts a cooling system of air-cooled condensing closed compressor with rapid cooling performance, low freezing temperature and strong moisture absorption ability. Temperature and vacuity are displayed in a digital, accurate, and direct manner.
3. In dehydration, the present equipment heats and sublimates natural air to maintain the security of samples.
4. The present equipment provides convenience with a vacuum pump attaching plug on the body, no need for any additional power supply.
5. The convenient and reliable vacuum connection adopts international standard clamp.
6. Stable performance, easy operation and low noise.
7. Compared with traditional freeze dryer: rapid freeze-drying of wall sticking and organism containing liquid materials (juice, traditional Chinese medicine extract, etc). The dried granulated product enjoys fine fluidity and particle diameter is adjustable within a certain range.
Technical parameters
1) Color LCD touch screen parameters displays drying chamber temperature/peristaltic pump rotating speed/fan frequency/stylet frequency/drying chamber pressure.
2) Capacity: 1000ml/batch (YC-3000B 2000ml/batch YC-3000C 5000ml/batch )
3) Spray freezing temperature: <-15℃
4) Cold trap temperature: ≤-60℃
5) Vacuum pump power: 2KW
6) Ultimate vacuum pressure: <20Pa (idle)
7) Spray pressure: 2-5BAR (adjustable)
8) Air compressor gas production rate: 4.2M3/h
9) Cold air volume: 5.5M3/min