HOME > Products

If you have any question, Please contact us.

The followings are major categories of our Client.
Products
YC-500 MINI SPRAY DRYER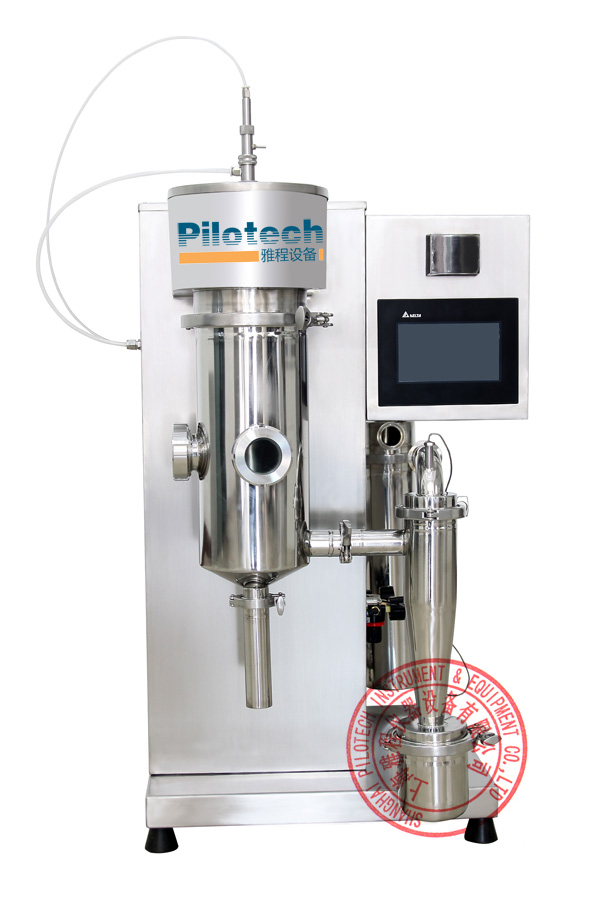 PRINCIPLE
To safely spray dry inflammable solvents,a new operating principle is employed which uses a combination of the Spray Dryer YC-500 and the Inert Loop to provide a closed loop circulation under inert conditions. The absence of oxygen prevents the formation of a ignitable mixture.At the same time, the solvent contained in the gas stream is cooled and consequently condensed. The regenerated flow is then returned again to the spray dryer.
Safety
Inert loop spray dryer features good safety and easy operations as it adopts closed cycle of nitrogen (or other inert gas), a safe gas, to keep the entire system in a closed state, and on-line monitoring of oxygen concentration such that the system would power off automatically and alarm when the oxygen concentration has reached 2.5% (which can be preset by the user as needed). The combination of closed nitrogen cycle and full solvent recovery allows treatment of flammable and toxic solvents and drying of readily oxidizable material. In addition, the low boiling points of organic solvents allow low temperature drying of the material subject to heat denaturation.
The Inert Loop is the perfect accessory to enable the Mini Spray Dryer YC-500 &YC-015 &YC-018 to handle organic solvents safely. Furthermore, it conserves resources and environment due to its functional principle.
• Enables Spray Dryers to work with organic solvents safely
• Explosion free Spray Drying due to inert gas atmosphere (N2)
• Prevent explosive conditions due to oxygen and pressure control
• Optional combination with YC-500 for mixtures of solvents and water
Solution to difficulty to dry organic solvents
While organic solvents are generally flammable and explosive, an explosion-proof, Inert loop spray dryer allows the materials to circulate in a closed drying system and prevents the organic solvent gas from coming in contact with the outside air, thus ensuring safe operations.
Solution to difficulty to dry oxydizable material
Taking advantage of the antioxidant property of inert gas, this technology allows the materials to be dried and transmitted in an antioxidant environment in the closed circulation system isolated from oxygen, which ensures quality of the drying process for readily oxydizable material.
Solution to toxic gases pollution from raw materials
While some materials or solvents may produce toxic gases when vaporized, an mini spray dryer with closed cycle of inert gas would keep these toxic gases in the closed system and allow them to be collected in subsequent processes, thus reducing environmental pollution, which is favorable for environmental protection.
The following solvents have been tested and can be used without reservation:
Methanol
Ethanol
Toluene
Hexane
Acetone
Ethylacetate
Dichloromethane*
Controls & Functionality
YC-500 mini spray dryer is designed to ensure that all functions are simple to select and adjust, to quickly achieve the optimum conditions for spray drying. The operator can control the following functions:
Inlet Temperature
Gasflow Volume
Pump Speed
De-blocker Frequency
Easy to use
PLC automatic control,One-click boot.
Color Touch Screen,Fast setup and cleaning times
Scale up to pilot or industrial scale possible.
Visible process due to glass assembly
Adjustable particle size (1 – 25 microns)
Two Fluid Nozzle with SUS316L stainless steel
The stainless steel spray assembly consists of an inner tube for the liquid sample leading to a small diameter jet. An outer tube directs compressed air to the nozzle. All units are supplied with 0.7mm jets, other sizes are available as accessories.The spray assembly incorporates an automatic de-blocking device that prevents the jet nozzle from becoming blocked, the de-blocking needle is activated by an integral compressor. De-blocking is sometimes necessary with materials which may solidify or when large particles in suspension cause blockages in the jet.
Areas of application
YC-500 mini Spray dryer can be used in a wide range of applications where the production of a free-flowing powder sample is required.This technique has successfully processed materials in the following areas:
Beverages • Flavours & Colourings
Milk & Egg Products • Plant & Vegetable Extracts
Pharmaceuticals • Heat Sensitive Materials
Plastics • Polymers and Resins • Perfumes
Ceramics & Advanced Materials
Soaps & Detergents • Blood • Dyestuffs
Foodstuffs • Adhesives • Oxides •Textiles
Bones, Teeth & Tooth Amalgam and many others